DUDA BEAT In Berlin - Tickets
Artistania, Berlin.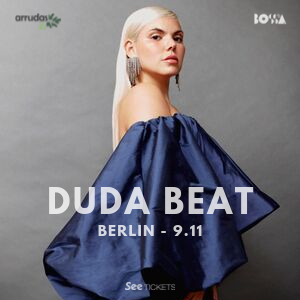 DUDA BEAT one of the most successful artists in the current independent music scene in Brazil for the very first time in Berlin!
Cet événement est réservé aux personnes de plus de 18 ans. Aucun remboursement ne sera accordé aux personnes de moins de 18 ans.
Plus d'informations sur les billets DUDA BEAT In Berlin
DUDA BEAT is one of the most successful artists in the current independent music scene in Brazil. "Sinto Muito" (2018 - Independent) is her first album and mixes musical genres like Latin Tecnobrega, Pop, Axé and Dub. The result is a debut full of personality. Produced by Tomás Tróia and released last year on all digital platforms, "Sinto Muito" has more than 18 million plays and a monthly average of 600 thousand listeners in Spotify. The track "Bixinho" came to stay a few weeks in the top 5 of the Brazilian playlist TOP 50 - great done in a huge market like Brazil.

Duda Beat composed all the tracks on the album, that was nominated for the Breakthrough Artist at the Women's Music Event Awards (SIM-SP). Duda was also listed among the 10 artists of the year in 2018 by Rolling Stone Brazil and received the APCA 2018 (Paulista Association of Art Critics Awards) at Popular Music category.

Since the album was released, Duda Beat has performed in the main states and festivals in Brazil: Lollapalooza Brasil (São Paulo), Queremos (Rio de Janeiro), Transborda (Minas Gerais), Meca Brennand (Inhotim/MG), Coquetel Molotov (Pernambuco), Mada (Rio Grande do Norte), Férias na PI e IMUSIC (Ceará), Sangue Novo (Bahia) and in June 2018, has performed as the opening act at Lily Allen's show in São Paulo for an attendance of more than 10 thousand people. The artist also collects a list of partnerships with majors names of Brazilian music such as Ivete Sangalo, Erasmo Carlos, Adriana Calcanhotto, Chico César, Tiago Iorc, Jaloo, Mateus Carrilho and Illy

Important:The venue Artistania will charge 3 euros in cash at the door for those that don't have their membership. The ticket does not include the membership. Upon purchasing at the door, Membership will be valid for one year.

PROMOTERS: LadoBe / BOSSA FM / Arrudas / Uhuuu! / Tomate Maravilha / IZAZ