ID > No Limits
Centro Congressos Estoril, Cascais.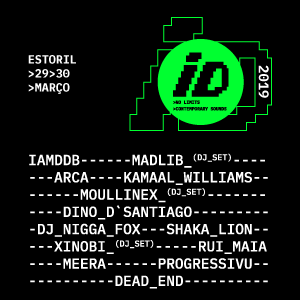 Cet événement est réservé aux personnes de plus de 16 ans. Aucun remboursement ne sera accordé aux personnes de moins de 16 ans.
Plus d'informations sur les billets ID > No Limits
Live Experiences presents
ID
>NO LIMITS
>Contemporary Sounds
ESTORIL> PORTUGAL
>29>30
>MARCH
FIRST CONFIRMATIONS:
>IAMDDB--- Madlib--- ARCA----Kamaal Williams---Moullinex------Dino_D'Santiago-----DJ_Nigga_Fox ---------Shaka_Lion ----Xinobi-----Rui_Maia-----Meera------Progressivu-----Dead_End
More names to announce!
ID is a music festival with a focused line-up to the most contemporary and timeless of electronic and urban music spectrum.
The festival offers the public the most various genres and subgenres.
The purpose of the ID is to celebrate the present and to point to future music lines.
The venue chosen is Centro de Congressos do Estoril, from a traditional Auditorium, to the conference rooms that become dance floors.
ID> NO LIMITS> Contemporary Sounds.